I found this amazing
pattern
for a Crocheted floral blanket on pinterest the other day. I saw it and I knew I needed it. I have been crushing on this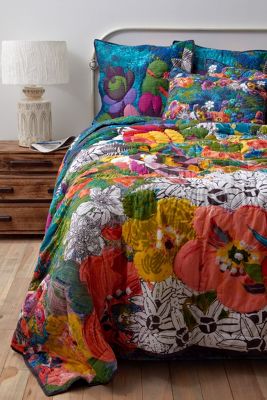 blanket from Anthropologie, and found my opportunity to bring it's essence into our bedroom. I am now in the process of crocheting a floral headboard out of hundreds of crocheted flowers. I must be insane.
I love it even more with every flower I add, slowly but surely it will be made. hAha, Moms, and my niece little miss C have all volunteered to make some flowers to add to my project!
In the mean time a small accomplish able project was in order.
Behold boring Lamp shade
Pinterest Inspiration
What a shock, it's from Anthro!
$1 worth of felt and it is remade. :)
And thanks to Moms for directing me to this link
Block Posters
, I printed myself some art to fit this frame I bought a month ago($10 at goodwill!)
Jones and I love it! There will never be any doubt in anyone's mind this is our home, and there is no place like it.
I am enjoying feeling much better after being sick all week with a terrible Sinus cold, still 8 months preggers though and have to remind myself of that. After accomplishing these little crafts and vacuuming I am completely exhausted. Time to make lunch, try to nap and then resume my place on the couch as the crazy yarn lady, watching the biggest loser and eating ice cream.
We had a fun surprise yesterday when it snowed about an inch and so for some reason both school and work were cancelled. Sweet. It was a much needed day of recovery for us. Plus it felt like Saturday and now in only 2 days it will be Saturday again. Tender Mercies :)